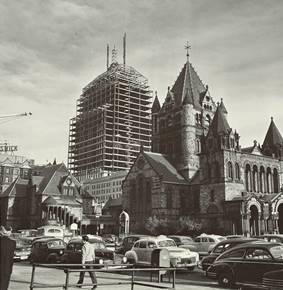 Picture from c. 1945 of the "first Hancock" being constructed at 200 Berkeley Street, now home to Deloitte. The 26 story building designed by Cram & Ferguson was once one of the tallest buildings in New England. The popular & swanky "Brunswick Hotel" sign can be seen on the left side of the picture, later razed to create 501 Boylston Street.
Interesting stats from the PAST 14 days: (sublease & direct – in all cases temp space excluded) from Mass Ave to the Seaport, South End to North Station.
A large swath of 56 spaces hit the market as available in the subject area equating to a whopping ~890,000 SF, mostly due to the entirety of Skanska's new 380 Stuart Street hitting the market for lease with 657,000 SF;
Albeit 77 spaces came off the market equating to ~360,000 SF, mostly due to 60713 SF @ 222 Berkeley; 115329 SF @ 500 Boylston;
Total Availability (direct & sublease) remains above 18%, currently at ~18.1 MM SF.