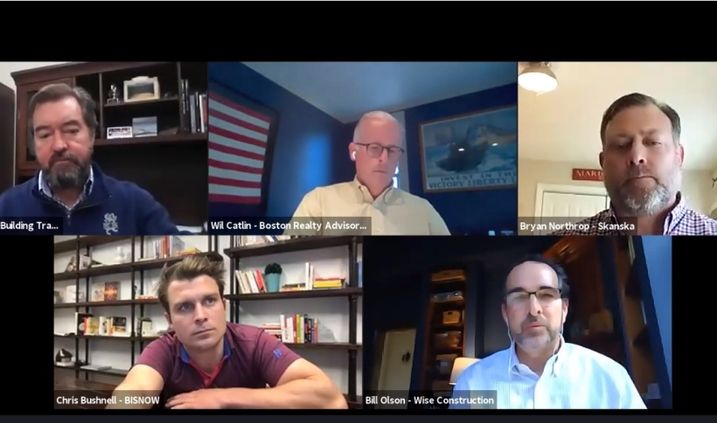 By Drees Stribling | Bisnow | May 19, 2020
As the construction industry in Boston is poised to reopen completely, the challenge of operating efficiently while social distancing are only going to intensify, experts said this week.
According to the speakers at Bisnow's recent webinar, How to Get Boston Construction Back Underway, it has already been a struggle.
A lot of construction deemed essential didn't stop over the last two months, giving construction companies time to start screening and to improve the process, Skanska Executive Vice President and General Manager Bryan Northrop said.
"People want to feel comfortable with their surroundings," he said. "We've been doing the checks and the self-certifications, and we've taken a step further to try to automate [the process], so you don't have to handle pens and paper."
"What we're finding is all the folks working on the job site support this, and we haven't had any pushback. I think everyone understand it's not only for their well-being, but their co-workers,'" Northrop said.
Skanska began checking temperatures with handheld units, and some jobs sites have stand-mounted devices that workers can walk by, Northrop said. He added that it is important to note that the results of the screening, including the answers to questions about worker health, are kept confidential.
Wise Construction Director of Construction Bill Olson said going paperless is important for privacy, but also because the goal is to not have people touch anything that isn't theirs to begin with.
"There's a lot of promising technology out there that people are starting to explore," he said, citing one system that counts the number of people at a job site.
"We're trying to limit a job site to 500 SF per person, so we count workers as they come to a job site, and we know when they get to that limit," Olson said. "Our focus is individual safety. If each worker on our site can protect [him or herself] and others, we have the baseline safety."
Another challenge for the industry are the costs associated with screening and social distancing, the speakers said. Some costs are more obvious than others, such as the expense associated with testing equipment and personal protective equipment.
"There are cost increases, and we've had clients ask us about what to expect, and frankly, each answer is different, because each job is in a different place," Northrop said.
In high-rise construction, vertical transportation is a critical factor in efficiency, and social distancing has had an impact on how efficiently it can be used, Northrop said. The industry is working on ways to adjust to that reality, such as staggering shifts, but it is going to be an ongoing challenge.
Screening workers and limiting their numbers on-site is only the beginning, the webinar participants said.
"When you think about the complexities of what you're doing, [like] hanging sheetrock or glass, how do you separate each other?" asked Boston Realty Advisors Managing Director and Senior Partner Wil Catlin, who co-moderated the event.
Construction workers are used to working shoulder-to-shoulder to complete tasks, so social distancing is a different way to work, and certainly a challenge, Northrop said. But when workers in the trades are challenged, they come up with creative ideas.
Sometime designers have modified aspects of a building's plan, such as panel sizes, to help make it easier to do while at a distance, he said. But some tasks can't be done while social distancing.
"When you start getting within 6 feet, and there's no other way, we start putting people in more substantial respirators or face shields," Northrop said.
Pandemic-era safety measures might seem like a strange new normal for the construction industry, but worker safety has long been a focus in the industry. The pandemic adds a layer of complexity to worker safety that will take some getting used to, speakers said, even with enhanced training.
"We all want to get back to work, but we want to get back to work as safely as possible," Massachusetts Building Trades Council Executive Vice President Francis Callahan Jr. said. "Safety is job one."
Safety at jobs sites now begins with the basics, including checking temperatures. That is only a first step, because some carriers of COVID-19 can be asymptomatic or have other symptoms besides fever. Construction sites also need to know whether workers have been traveling recently, whether they have been exposed to anyone with the disease, or if they have lesser-known symptoms, such as a loss of smell and taste.
"It's important that we get this right the first time," Callahan said. "We don't want everybody going back to work, and we have a spike and have to shut down again."
Callahan pointed out that construction unions are shouldering much of the costs for online training, which is a critical factor in making the new safety procedures work.
"That's our focus, and that's how we're addressing our safety needs," he said. "Our members are going to show up at the job site, as they always do, with a much higher level of training."