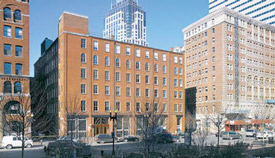 The Boston office market is in a state of recovery and rents are continuing upward. Within the Class B market, Boston is experiencing reduced vacancy as companies are continuing to seek out value options. Buildings in the Downtown Crossing Class B market have seen strong rent growth in 2013 and are now priced in the low $30's PSF.
According to the BBJ "the overall amount of available space [in Boston], including sublease space, rose to 18.3 percent in Q4, up from 16.7 in Q4 of 2012. That change reflects nearly 300,000 square feet of negative absorption."
Additional information is available on the Boston Business Journal website.