GREATER BOSTON'S
POST PANDEMIC OFFICE RECOVERY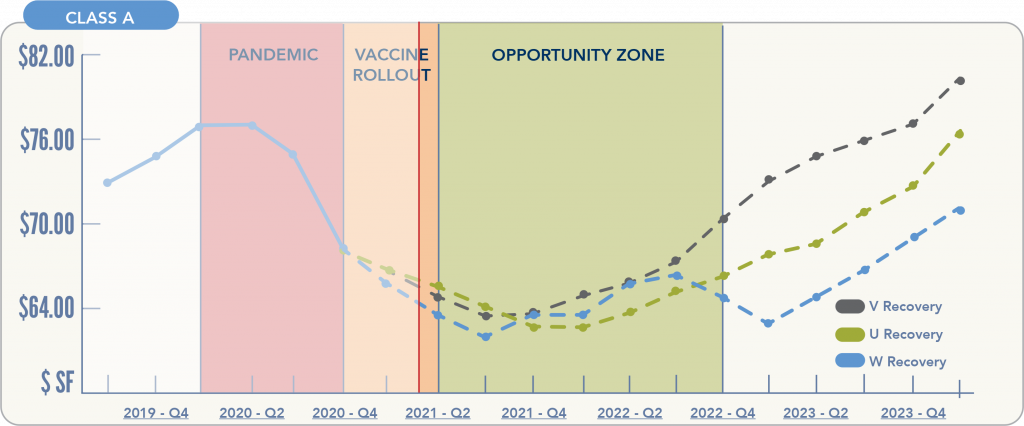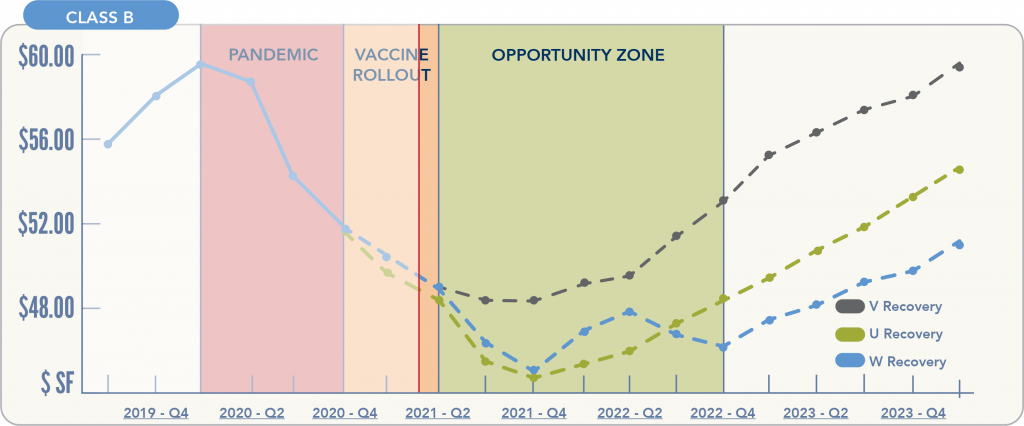 The future recovery remains uncertain, but the next 12 months offers great Opportunity for those who take action.
AVAILABILITY:
Since January, availability has increased an additional 1.76 million SF to 18 million SF. Still, the pace has slowed dramatically, and since February week to week absorption has started to offset new availability. Although still trending negative, the week-to-week spread has dropped to under 100,000 SF in each of the last five weeks. A sub-trend has begun as some subleases are already being removed by companies looking to reoccupy current leaseholds. This is a positive sign that the worst of space dump may be behind us for now.
DEMAND:
March /April/May were the busiest months since the pandemic started. BRA is seeing tour activity at pre-pandemic levels. The activity is across all sizes, in all markets, and most sectors of business. Demand drivers are across the board as well; Lease expirations, growth, right sizing, and reopening offices that closed in 2020. Uncertainty on employee work habits remains a hotly discussed topic, but the sentiment is swinging towards planning for the future, including office space.
RENTS:
Rents continued to recalibrate down, albeit slowly. Deal activity offers more insight into Tenant and Landlord expectations and suffices to say the bid/ask spread is further apart than any time in the last ten years. Rents at Building A might be down 20%, but Building B's rents are only down 8% but offering more free rent and Tenant Improvement Allowances. Tenants are seeing Building B's asking rent and get "Sticker Shock". Time and new transaction data will be required to narrow the bid/ask spread. We project by Q3/Q4 2021; the spread will begin to tighten.
SENTIMENT:
Tenants:
Companies are surveying employees, and the data is coming back in favor of a return to the office when it is safe to do so. 60-70 % of employees expect to work from the office 2-3 days a week and most notably miss the interpersonal interaction.

Return to office timelines vary, but September 1 is a common theme for many companies. With greater than 50% of MA residents vaccinated and restrictions lifted as of June 1, the question on a return to office is now when, not if.

Landlords:
Sentiments remain optimistic that the pace of recovery will be on par with the macroeconomic forecast. Pent-up demand and lowering infection rates are critical aspects of returning to the office by the end of the year. Legacy/private ownership groups remain the most willing to adjust asking rents, valuing occupancy greater than maintaining yesterday's asking rents. Institutional/higher basis ownership groups are favoring free rent and larger Tenant Improvement Allowances over adjusting asking rents. The sentiment is adjusting but more slowly.

Any Landlord with a vacancy, especially those with long-standing vacancy, will continue to be the most aggressive to meet the expectations of Tenants actively in the market for Q3/Q4 2021 occupancy.