Boston's Financial District attracted positive demand in 2013 as Class B properties and Class A commodity space continue to benefit from the lack of prime availability. Tenants flocked to the Financial District from supply constrained markets like East Cambridge, the Back Bay and Seaport. This demand saw year over year rents increase in excess of 20% in the Class B market. Many Landlords are capturing this demand by proactively renovating and upgrading suites to open concept, spec suites that offer today's tenants ready-to-go spaces with more flexible lease commitments. The red line continues to be the main driver and 2014 is poised to see a true renaissance of Boston Downtown Crossing neighborhood. Boston's transportation hub is spurred by the new Millennium Tower redevelopment of the Filene's Basement site. This area will continue its transformation as a hub for new and emerging companies. Expect rising rental rates and continued demand to drive some Class B building owners to complete capital improvement projects and upgrade second generation spaces to compete for tenants.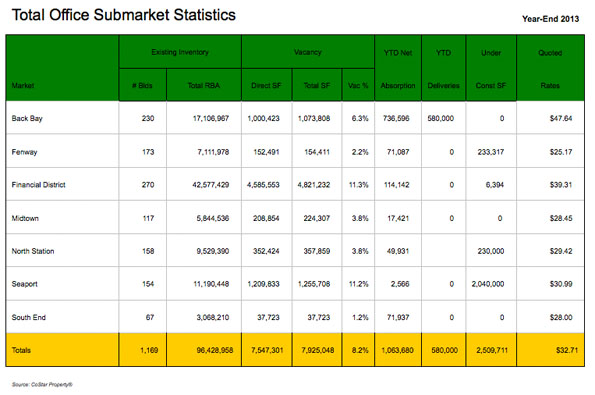 Vacancy & Rental Rates: Overall 2013 saw tenants absorb over 1,000,000 SF square feet of commercial office real estate in Boston's Central Business District. The Class B office market in particular saw 322,258 SF of absorption in 2013 bringing the vacancy rate to 8.0 percent. This trend of positive absorption has continued over the last 8 quarters resulting in the increase of asking lease rates for class B product to an average asking rate of $31.08 per rentable square foot. Supply constrained markets like the Back Bay and Seaport continue to impact market fundamentals by increasing demand in other areas of the city like the Financial District resulting in further recovery in rental rates reviling pre-recession pricing of early 2008.
Demand Driver: Class B real estate activity provided a look into the dynamics of the Boston economy and leasing activity suggests that Boston is not slowing down and expected to continue with compound annual rent increases excess of 10 percent through 2015. As the value play alternative, the Class B Financial District market continued capitalizing on rising Class A rents combined with limited supply in the Seaport, Back Bay and East Cambridge. This is most evident within the Financial District where tenants seeking value have poured into buildings with great T access like Downtown Crossing.
Outlook: Healthy fundamentals persist in submarkets like the Back Bay, Cambridge and the Seaport District and demand appears to be spilling into neighboring submarkets. Continued growth and positive indicators seen regionally mixed with the most optimistic confirmation of stock market and national employment data seen since 2007 suggests further gains in employment and real estate occupancy in coming quarters. With some of the regions most desired locations becoming market wide choice-constricted and no speculative construction underway market wide, many expanding tenants will increasingly consider peripheral locations and other creative solutions with rent levels adjusting to changing demand trends.