I was first introduced to Breather from Will Preap who is the head of Breather's business development for Boston and got the concept. The notion that I could have a private meeting/interview in a space outside of the public eye was captivating. Preap has strong roots to Boston and expects to add 30 location throughout the CBD. So, questions I get from landlords are, is it safe? Yes, Breather controls access to the space via a smart phone app. Prior to getting access, Breather understands the clients social footprint using algorithms that access social media sites to better understand the profile. Once you have selected the Breather spot you get to the door and Breather provides a one-time access code to the app. You enter and you meeting commences. The space is fitted out with smart phone chargers wrapped in a sophisticated yet relaxed atmosphere complete with WIFI.
The meeting ends and you depart, yes, Breather knows. Breather then sends their team back into the space to ensure it is ready to go for the next client.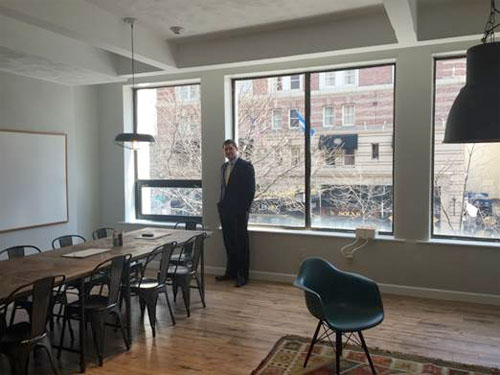 Pictured above is Justin Harlow of BRA's Downtown team @ 715 Boylston Street.