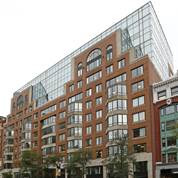 Did you know Boylston St. is named after Mr. Ward Boylston (he grew up in JP). Boylston Street was originally known as Frogg Lane! Sitting mid-block between A & B is 399 Boylston St., designed by CBT & built by MetLife in 1983. The 215,000 SF building was designed to look like period buildings from the street scape & then is capped with a glass front with 360 views of the city. They have a Tatte there now!
Interesting stats from the PAST 14 days: (sublease & direct – in all cases temp space excluded) from Mass Ave to the Seaport, South End to North Station.
A slew of 59 spaces hit the market as available in the subject area equating to ~363,000 SF, mostly due to 16306 SF @ 253 Summer; 41738 SF @ 179 Lincoln; 24930 SF @ 225 Franklin;
26 spaces cameoff the market equating to ~168,000 SF, mostly due to 11741 @ 281 Summer; 11672 SF @ 99 Bedford; 22944 SF @ 100 High;27922 @ 53 State;
Total Availability (direct & sublease) ticked up markedly now at ~17.3 MM SF (last seen in April of 2021).