Created after construction of the Big Dig was completed in 2006, the Seaport District is a relatively new area that has undergone a rapid and remarkable transformation in recent years.
Revitalization of the Seaport District is one of Mayor Menino's pet projects, and the area has seen marked improvement over recent years. Currently known as the Innovation District, many formerly abandoned warehouses are being developed into office spaces, residential developments, and hip restaurants.
The mayor began this initiative in 2010, hoping to attract tech and life science firms to the area in an effort to ensure Boston's continued leadership in the innovation industry and bolster the job market.
Many new developments are cropping up, including the $5.5 million Boston Innovation Center, which broke ground in May 2012. This 12,000 SF building includes 9,000 SF of modular meeting space and a 3,000 SF restaurant. In addition, the mayor is also promoting the development of micro-apartments ("innovation housing") aimed at those aged 25-34, in hopes of further attracting talent to the Seaport District.
In total, over 1,160,000 SF of innovation space, 1,500+ residences, additional restaurants, cafes, a retail space, plus an expansion of the Boston Convention and Expo Center are on the horizon. This makes the Seaport District an extremely desirable destination for those looking for Boston office space.
The Seaport District includes the Fort Point Channel, which separates Boston from South Boston. The Fort Point Channel area is Boston's largest, most cohesive, and most significant collection of late 19th and early 20th century industrial loft buildings. It includes a place to walk along the water. The area has a very distinct architectural style, as many buildings were built by the Boston Wharf Company between 1880 and 1920.
While the area defined by CoStar does not technically include Liberty Wharf, it is directly adjacent to and considered by most to be part of the Seaport District. Liberty Wharf is located at 606 Congress Street and is comprised of a 70,000 SF office and retail development which includes Legal Harborside, Del Frisco's, Temzcal Tequila Cantina, and Jerry Remy's Sports Bar & Grille.
Office Space
There are 108 office buildings in the Seaport District, for a total of 13,146,166 square feet of office space:
• 23 Class A buildings, totaling 5,867,656 square feet
• 61 Class B buildings, totaling 6,374,813 square feet
• 24 Class C buildings, totaling 903,697 square feet
Neighboring Areas
• The Financial District
• Midtown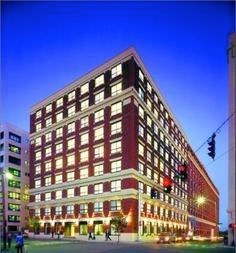 Public Transportation Services Available in the Seaport District
• Bus
• Silver Line
• Red Line
The Silver Line provides access to South Station and Logan Airport. Logan Airport is the largest airport in New England and the 19th busiest in the world.
Boston's South Station provides Seaport office space users with a wealth of transportation access. New England's second largest transportation center (after Logan Airport), South Station is situated at the intersection of Atlantic Avenue and Summer Street, in the heart of the Financial District.
Services Available at South Station
• Red Line
• Silver Line (provides access to Logan Airport)
• Various bus lines: 6, 7, 441, 441W, 448, 442,442W, 449, 455, 455W, 459
• Commuter Rail Access:
• Framingham/Worcester Line
• Needham Line
• Franklin Line
• Providence/Stoughton Line
• Fairmount Line
• Greenbush Line
• Middleborough/Lakeville Line
• Plymouth/Kingston Line
• Amtrack
• Acela Express
• Lake Shore Limited
• Northeast Regional
Driving/Parking
The Seaport is also directly accessible via the MassPike and I93. The short distance to public parking and the proximity of Interstate 93 make it an ideal destination for office space tenants commuting by car.
Parking
• NETWORK Parking – Marine Industrial Park (12 Dry Dock Ave)
• Central Channelside Lot – 6 Necco St (btwn. Wormwood & Summer)
• Farnsworth Street Garage – 17 Farnsworth St (btwn. Congress & Northern Ave)
• LAZ Dartmouth Street Garage (126 Dartmouth Street, between Columbus Avenue and Stuart Street)
Hotels
• Renaissance Boston Waterfront Hotel (606 Congress St, Boston, MA, 02210)
• The Seaport Hotel (1 Seaport Lane, Boston, MA 02210)
• The Westin Boston Waterfront (425 Summer Street, Boston, MA 02210)
• Intercontinental Hotel (510 Atlantic Avenue, Boston, MA 02210)
While there are not an overwhelming number of hotel accommodations located directly within Seaport District, there are plenty of places to stay within minutes.

Notable Area Attractions
• The Institute of Contemporary Art – Founded in 1936 as the Boston Museum of Modern Art, the ICA strives to present outstanding contemporary art in all media, including visual art exhibitions, music, film, video and performance.
• The Harpoon Brewery – Harpoon has been brewing craft beer since 1986. This location features tastings and tours.
• The Bank of America Pavilion – Outdoor entertainment venue with a seating capacity of approximately 5,000.
• The Boston Convention and Expo Center – The largest exhibition center in the Northeast, with 516,000 SF of exhibition space.
• Boston Children's Museum – An area favorite, located on Children's Wharf in the Fort Point area, the Boston Children's Museum is the second oldest children's museum in the US.
• Seaport Hotel & World Trade Center – Boston's largest convention hall, which offers space for meetings and tradeshows. The Seaport Hotel was recently named one of North America's five greenest hotels by Fodor's.
Restaurants
The Seaport has many exciting dining options, ideal for entertaining clients colleagues alike:
• Anthony's Pier 4 – Fan Pier
• Atlantic Beer Garden – Seaport WTC
• Aura – Seaport WTC
• Barlow's – Fort Point
• Drink – Fort Point
• Flour Bakery & Café – Fort Point
• Jerry Remy's – Liberty Wharf
• Legal harborside – Liberty Wharf?Legal Test Kitchen – Liberty Wharf
• Local 149 – P street
• Menton Fort Point
• Moko – East Broadway
• Paramount – East Broadway
• Salsa's – Dorchester Street
• Salvatore's – Liberty Wharf
• Sportello – Fort Point
• Stat's – Dorchester Street
• Temezcal – Liberty Wharf
• Whiskey Priest – Seaport WTC