The Midtown submarket is bound by the Boston Common, I93, Columbus Avenue, E Berkeley/Warren Street. The Midtown market represents much of what people envision when they think of Boston because it has such a rich history and culture. This central location provides easy access to transportation and resources, making it a desirable location for office space across all markets.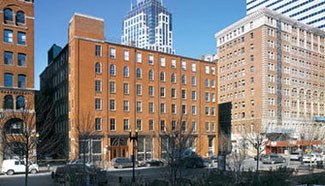 Midtown Boston Office Space
The Midtown submarket has 118 buildings, for a total of 5,770,241 SF of office space:
• 4 Class A buildings, totaling 530,278 SF
• 60 Class B buildings, totaling 3,965,614 SF
• 54 Class C buildings, totaling 1,274,349 SF

Areas Included
• Chinatown
• The Theatre District [Link to article]
• Parts of the South End
The Boston Common is America's oldest public park, dating back to 1634. The Common is loved by tourists and locals alike, and is home to numerous monuments as well as a softball diamond and tennis courts. Visiting the swan boats in the summer and ice-skating on Frog Pond during the winter are favored pastimes with many in the region.

The Midtown submarket also encompasses Boston's theatre district, with numerous historic theatres which host off-broadway shows, comedians, and musical guests.

Boston's Chinatown is also located within the Midtown submarket. The area was first settled by Chinese immigrants in the late 19th century; currently approximately 70% of the area's residents are Chinese. The area is home to over 200 authentic Chinese restaurants. Tufts New England Medical Center is also located in Chinatown.
The Midtown submarket also includes a small portion of the South End of Boston. This part of Boston is now home to a recent development referred to as Ink Block, a series of three residential complexes with ground level retail space. Its environmentally friendly design represents a growing trend across the city.

Access to transportation and resources make office space in Midtown Boston ideal for users across all markets.

Attractions Include
• The Boston Common
• Chinatown
• The Wang Theatre
• Emerson College
• Shubert Theatre
• Colonial Theatre
• New England Medical Center
• Boston Opera House
• Wilbur Theatre
• New England School of Law

Transportation
Midtown is located just minutes to South Station and Back Bay Station, which both provide access to the commuter rail and Amtrak. In addition, it is also serviced by the following subway stations:

• Tufts Medical Center – Orange Line
• Boylston Street Station – Green Line
• Chinatown – Orange Line

The area is also accessible via Exit 22 on the MassPike (towards Copley), Huntington Avenue, and Commonwealth Avenue.

Parking
Midtown has an abundance of parking garages. Daily rates range from roughly $18 to $34. Monthly access ranges between $270 and $350.

The Boston Common Garage, located underneath the Common and operated by the Massachusetts Convention Center Authority, is always a good bet for affordable and easily located parking. The entrance is located on Charles Street, sandwiched between the Boston Common and Public Gardens. Other options for tenants of Boston Midtown office space include:

• Motor Mart Garage (201 Stuart Street, between Eliot and Church Street)
• Pilgrim Parking – Shoppers Garage (40 Beach Street, between Harrison Ave and Washington Street)
• LAZ Parking (41 Stuart, between Washington Street and Tremont Street)
• Pilgrim Atelier (18 Warren Ave, between Berkeley St and Clarendon Street)

Hotels
• Courtyard by Marriott Downtown (275 Tremont Street)
• W Hotel Boston (100 Stuart Street)
• The Ritz-Carlton Boston Common (10 Avery Street)
• DoubleTree Hotel (821 Washington Street)
• Hyatt Regency Boston (One Avenue De Lafayette,)
• Four Seasons Hotel Boston (200 Boylston Street)
• Radisson Hotel Boston (200 Stuart Street)