Boston's North End has a flavor that is distinctly Italian. "Little Italy" features narrow cobblestone streets packed with cafes, small boutiques, fabulous restaurants, and delicious pastry shoppes.
The North End has a rich and lengthy history. Often called Boston's oldest neighborhood, the area was first established in the mid-1600s. During the 1800s, it experienced a large influx of immigrants. Italian immigration started in the 1860s. Today, approximately one-third of North End residents boast Italian heritage.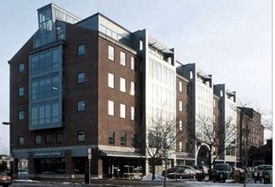 North End Office Space:
There are 57 office buildings in the North End and Waterfront Submarket, for a total of 2,075,129 rentable square feet.
• 2 Class A buildings, totaling 198,822 rentable square feet of office space.
• 34 Class B buildings, totaling 1,472,265 rentable square feet.
• 21 Class C buildings, totaling 404,042 rentable square feet.

Approximate Boundaries:
The North End/Waterfront submarket is bound by the Atlantic Ocean, North Washington Street and John A. Fitzgerald surface road streets on the South/West, and Atlantic Avenue on the southeast.

Neighboring Areas:
• North Station/Government Center
• Financial District

Transportation
While no MBTA stations exist within the technical boundaries of the North End/Waterfront office submarket, Haymarket and North Station are located within a short distance. North Station is roughly a half-mile, or an eight-minute walk from the northern-most point of the North End.

Both Haymarket and North Station provide subway service via the Green and Orange lines. Further, those renting or leasing office space in Boston's North End will find it convenient that North Station offers access to the commuter rail.

The Aquarium MBTA station is located just beyond the southeastern boundaries of Boston's North End and Waterfront submarket. The Aquarium Station offers blue line subway access, as well as ferry access.

The North End/Waterfront area is easily accessible via I93 and the MassPike.

North End Parking:
Users of office space in the North End/Waterfront submarket may find that on-street parking is difficult, especially in the North End itself. However, there are various garages in the area. Monthly parking ranges from $275-350, while daily parking costs approximately ($15-26).

• Pilgrim Parking (34 Cooper Street, between N. Marginal & Endicott Street)
• LAZ Parking – Sargents Wharf (269 Commercial Street, between William F. McClellan Hwy & Union Wharf)
• Standard Lewis Wharf Parking (20 Atlantic Ave., between Lewis Wharf and Eastern Ave)
• Pilgrim North End (600 Commercial Street, between Prince Street and Hull Street)

Hotels in the North End and Waterfront Submarket:
• Fairmont Battery Wharf – 3 Battery Wharf, Boston, MA 021209
• The Constitution Inn – 150 3rd Ave, Boston, MA, 02129 United States
• Mariner's House – 11 North Square, Boston, MA 02113
• The Millennium Bostonian Hotel – 26 North Street, Boston, MA 02109

Attractions
• Summer Feasts – These lively street festivals are a truly unique North End experience, full of food, music, and fun.

• The Paul Revere House – Paul Revere's midnight ride began at this house at 19 North Square.

• Old North Church – The oldest religious structure in Boston, dating back to 1723.

• Copp's Hill Burial Ground (Hull Street) – The second oldest burial ground in Boston, home to the remains of the some of the earliest Boston settlers.

• HarborWalk/Boston Harbor Waterfront – The HarborWalk is a scenic walkway along Boston's waterfront. Creation of the HarborWalk is a long-term cooperative project between the City of Boston, the Boston Redevelopment Authority, MassDEP, and the Boston Harbor Association to maintain a walkable waterfront in the city as public access areas.

Housing
View our residential site to see apartments for rent in the north end boston.

Neighborhood History
For more information on the history and evolution of the area, refer to this history of businesses in boston's north end, or this site dedicated to the area.