The North Station/Government Center office submarket borders the North End/Water Front submarket, the Back Bay submarket, and the Financial District submarket. It encompasses Beacon Hill, the West End, Government Center, and parts of downtown.
There are 105 office buildings in the North Station/Government Center submarket, for a total of 7,904,627 square feet of office space:
• 6 Class A buildings, totaling 1,147,709 SF
• 48 Class B buildings, totaling 5,095,085 SF
• 51 Class C buildings, totaling 1,661,833 SF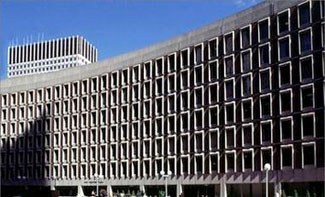 History
Government Square is located on what was formerly known as Scollay Square. Scollay Square was named for William Scollay, a prominent local developer and militia officer who bought a landmark four-story merchant building at the intersection in 1795. The name was officially adopted by the city in 1838.
The area played a prominent roll in the early abolitionist movement. It was here that author William Lloyd Garrison was attacked for printing his anti-slavery newspaper, the Liberator. Many of the buildings in the area in and around Scollay Square had hidden spaces where escaped slaves were hidden, as part of the Underground Railroad.
Scollay Square was known as a busy center of commerce from the start. It was home to a couple theatres and the city's first photographer. The Olympia Theatre attracted many famous performers, including Milton Berle, George Burns, and the Marx Brothers.
However, the area downgraded during the 1940s. Theatres began showing burlesque shows, and Scollay Square began attracting sailors looking for paid female company. The area that would eventually become government center was notoriously overrun with prostitutes. This led to neighborhood outcries and ultimately action.
In the 1960s, the government started to develop the area as office space. Construction on the Government Service Center commenced in 1961 and finished in 1971.
Located about fifteen minutes from Government Center, North Station opened in 1893. The original North Station was built slightly south of the present version in 1893, and it fronted directly on Causeway Street. Prior to its existence, there were four separate train stations in the area.
Neighboring Areas
• Financial District
• North End
Areas Included
• Bulfinch Triangle Historic District
Charles Bulfinch was a member of the Selectmen's committee that designed the street layout of this landmaking project and drew the plan, hence the name Bulfinch Triangle. This area is shaped as a southeastward pointing triangle with today's Causeway Street as the straight side at the top and Merrimac and North Washington Streets meeting to form a point at the Haymarket Parking Garage.
Major Structures / Attractions
• Boston City Hall
• City Hall Plaza
• Government Service Center
• TD Banknorth Garden
• Massachusetts General Hospital
• John F. Kennedy Federal Office Building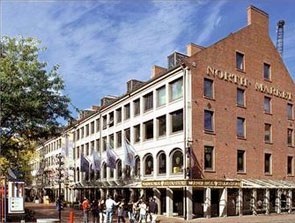 Public Transportation
One of the many factors that drives tenants to look into renting office space near Government Center and North Station is the ease of access to public transportation. The North Station/Government Center submarket provides easy access to all subway lines (with the exception of the Silver Line), as well as the Commuter Rail and Amtrak.

The following MBTA subway stations are located within the boundaries of the North Station/Government Center office submarket:

• Government Center (Green and Blue Lines)
• Bowdoin Station (Blue Line)
• Charles MGH (Red Line)
• North Station (Green and Orange Lines; Commuter Rail – Fitchburg, Haverhill, Lowell, Newburyport/Rockport Lines; Bus; Amtrak)
• Science Park (Green Line)
• Haymarket (Green and Orange Lines)

Office space in North Station and Government Center is favorably located to provide access to Logan Airport via the Blue Line.

Hotels
The Government Center / North Station submarket has much to offer Boston office space tenants in terms of overnight accommodation options. From guesthouses to chains, there are plenty of hotel choices within this submarket.

• Charles Street Inn (94 Charles Street)
• Holiday Inn Boston at Beacon Hill (5 Blossom Street, Boston, MA 02114)
• The Liberty Hotel (215 Charles Street)
• Onyx Hotel (155 Portland Street, Boston, MA 02114)
• Westin Hotel (68-78 Ray Bourque Way, Boston, MA 02114)
• John Jeffries House (14 Daniel G Mugar Way, Boston, MA)
• XV Beacon Hotel (15 Beacon Street)

Driving/Parking: Government Center and North Station are both directly accessible from the MassPike and Interstate 93. Garage parking is readily available for users of office space in the North Station/Government Center area. Monthly rates range from roughly $290-400, with daily rates between $10 and $32. Some options in the area include:

• Stanhope Garage (31 Lancaster Street, between Merrimac & Causeway Street)
• Standard Garage Government Center (50 New Sudbury, between Congress Street & Cambridge Street)
• ProPark West End (4 Emerson Place, at Blossom Street)
• LAZ Carpark (15 Lancaster Street, between Merrimac & Causeway Street)
• ProPark North Station Garage (121 Nashua Street at Lomasny Way)