Not only does the Boston Marathon run down Boylston Street, but now that is followed by every tech consumer. Boylston Street is home to the newly opened Verizon mega store at 745 Boylston Street. The next block over at 699 Boylston Street is home to the AT&T mega store. AT&T and Verizon followed the leader, Apple which opened at 815 Boylston Street and Microsoft which is in the Prudential complex at 800 Boylston Street. Need a gadget or some tech support? It can all be had on Boylston between 699 & 800 Boylston Street.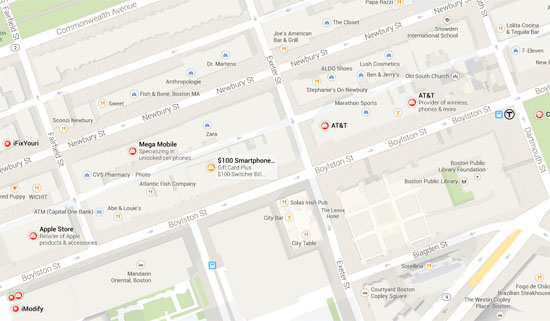 The BBJ summarizes the recent additions, noting "Verizon [is] opening up a superstore on Boylston Street in Boston's Back Bay later this month. Now today, it's AT&T that says it's going to open a 9,000-square-foot store at 699 Boylston, not too far away from the Verizon superstore, which is at 745 Boylston…Both stores show how much Apple has changed the retail experience" in the Back Bay.
You can read more on the Boston Business Journal.
Related Listings
Back Bay office space