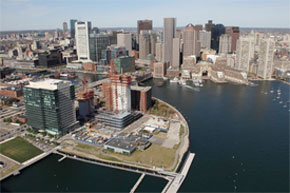 The Seaport continues its strong construction growth by introducing new condominiums. Vertex's two new office buildings will come online by the end of 2013, bringing the need of more amenities to the ever-expanding workforce.
According to an article in The Boston Globe online, the "developer of the massive Fan Pier complex in Boston's Seaport District is planning to build one of the city's first new condominium buildings since 2009, a sign of an improving housing market and the success of the burgeoning waterfront."
The Boston Globe's complete article expands on the project and the rebounding waterfront area.