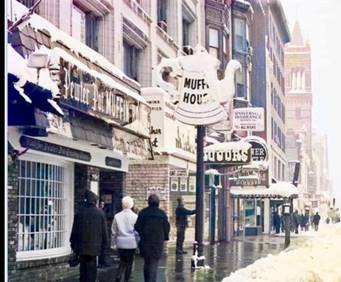 Many years ago Boylston Street was awash with liquor stores, dive bars, inexpensive shops and diners. Here we see "The Pewter Pot Muffin House", a much beloved eatery (now a Verizon store) at 745 Boylston – the erstwhile home of BRA for many years! This picture is from just after the Blizzard of '78 and some of the buildings in the distance survive to this day.
Interesting stats from the PAST month: (sublease & direct – in all cases temp space excluded) from Mass Ave to the Seaport, South End to North Station.
A quiet period with 61 spaces hitting the market as available in the subject area equating to ~473,000 SF, mostly due to: 85399 SF @ 1 Financial; 32110 @ 10-20 Channel; 32396 SF @ 451 D; 28261 SF @ 3 CP; and a smattering of small spaces all around;
38 spaces came off the market equating to ~198,000 SF, mostly due to 10500 SF @ 20 Park Plaza; 18575 SF @ 101 Arch; 17722 SF@ 99 Summer;
Total Availability (direct & sublease) ticked up again to ~20,500,000 SF.