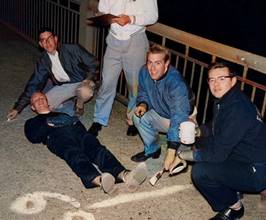 MIT's student body are famous for their annual pranks, most of which are anonymous. If you've ever walked across the Mass Ave Bridge you will note painted hashmarks all the way from the Boston to Cambridge banks of the Charles. These are "Smoots', in honor of MIT student Oliver Smoot seen here in October of 1958 measuring the Bridge, head to toe, every 5'7". Now you know!
Interesting stats from the PAST month: (sublease & direct – in all cases temp space excluded) from Mass Ave to the Seaport, South End to North Station.
96 spaces hit the market as available in the subject area equating to ~1,200,000 SF, mostly due to: 279541 SF @ 2 Itn'l; 49811 @ 40 Water; 182485 @ 1 Iron; 118842 @ 100 Summer;
53 spaces came off the market equating to ~494,000 SF, mostly due to 58484 SF @ 2 CP; 35499 @ 6 Tide; 27924 @ 1 Marina Park Drive 32219 @ 125 Summer;
Total Availability (direct & sublease) ticked up again to ~20,900,000 SF.