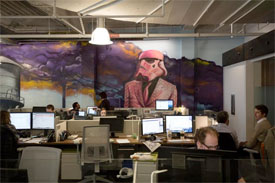 Does your office look like a maze of cubicles, bench seating or that of today's tech firms? See how Carbonite has extended their brand onto their walls and doors at their new location?
A Boston Globe article Welcome to the new world of downtown office spaces. As tech firms have migrated into the staid Financial District and nearby environs during the past five years, they've done their best to put their unique stamps on work spaces. Goodbye, wood paneling. Hello, Yoda…Their offices have, essentially, become extensions of their brands — physical manifestations of how they view the world, and how they want the world to view them.
You can read the article on the Globe's website.