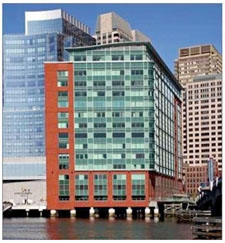 New eats on High Street; Ian Just of Sorriso and Les Zygomates of South Street will open Society at 99 High Street sometime in November.
Thomas Grillo of the Boston Business Journal reported today that "Ian Just, chef-owner of Les Zygomates and Sorriso in the Leather District, is planning his newest venture: Society on High in Boston's Financial District…Under construction at 99 High Street, the restaurant will feature 140 inside seats with another 60 in an outdoor plaza. The 5,500-square-foot space is being designed by Peter Niemitz, and includes dark cream, red and black colors."
Continue reading the complete BBJ editorial.
Related Office Listings

Offices in Boston's Financial District