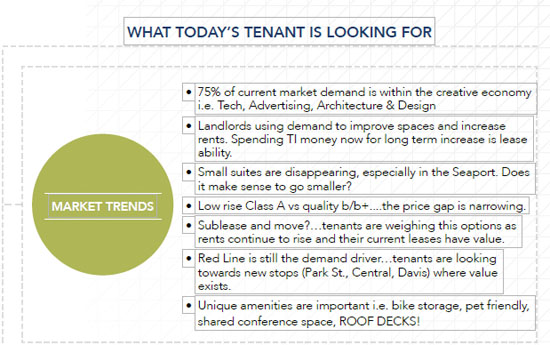 · 75% of current market demand is within the creative economy i.e. Tech, Advertising, Architecture & Design
· Landlords using demand to improve spaces and increase rents. Spending TI money now for long term increase their lease ability.
· Small suites are disappearing, especially in the Seaport. Does it make sense to go smaller?
· Low rise Class A vs quality b/b+….the price gap is narrowing.
· Sublease and move?…tenants are weighing this options as rents continue to rise and their current leases have value.
· Red Line is still the demand driver…tenants are looking towards new stops (Park St., Central, Davis) where value exists.
· Unique amenities are important i.e. bike storage, pet friendly, shared conference space, ROOF DECKS!