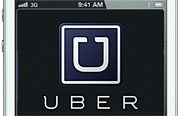 Uber is on the move and headed for new digs in the North Station area of Boston. The North Station office market still reigns as a value option compared with Back Bay and the Seaport.
The Boston Herald describes the scale of Uber's new space at 239 Causeway St., noting "The 17,494-square-foot office is nearly three times the size of the company's current office near South Station, and comes with an option to expand to another floor in the future."
Rents in the Class B market can range from the low to mid $30's PSF.